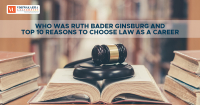 Ruth Bader Ginsburg's recent demise was mourned the world over. Nicknamed as "The Notorious RBG", the lawyer was celebrated as a pop culture icon for her formidable stand on feminism. At different points, great lawyers have left an indelible mark on the course of history. Mahatma Gandhi, Barack Obama, Nelson Mandela, Soli Sorabjee, Ram Jethmalani, Harish Salve... the list is endless.
How is it that lawyers have the potential to become rockstars that make a difference? What is it about law studies that makes it so appealing as a career?
Apart from appearing extremely cool in the black and white robes, being able to recite legal jargon as if the law were your second language and having the ability to shout out dramatically "I Object!" in an open court, here's a list of 10 reasons why choosing law as a career could be one of your best decisions!
1. Wide variety of fields within the law: Within the umbrella of law itself, there is a wide range of options you can pick from depending on your aptitude and interest. You can choose to work as a public prosecutor, solicitor general or you can work with private law firms. Some interesting options are energy law, criminal law, family law, international law, corporate/business law, bankruptcy law, immigration law, domestic law, etc. You can choose to work as a tax attorney, a real estate lawyer, a judge, or you can work in the medico-legal field... the options are numerous.
2. Financial stability: A good private lawyer is in high demand and clients are willing to pay any amount to have their representation. Various firms offer attractive financial packages and benefits to their lawyers and counsellors. This is, of course, one of the top reasons why students opt for the law.
3. Respect and Power: A lawyer enjoys a powerful and respectful position in society. No one wants to mess with a person who knows the laws inside out!
4. Job Satisfaction: Just like a good doctor can take away the client's pain and feel an instant gratification at having touched someone's life and benefitted someone, lawyers have a similar level of job satisfaction. When you work with your client, build a relationship with them and are able to resave their legal problems, it is truly rewarding. This feeling of service can be achieved in few other professions.
5. Intellectually challenging: New cases bring new challenges. Every new challenge requires a different approach and it keeps you on your feet. You also need to keep updating yourself with the latest reforms and stay abreast of the continuously changing laws. It can help develop your communication skills, argumentative skills, analytical reasoning and debate prowess. If you're someone who likes to stay sharp and keep your grey cells active, this field is for you.
6. The ability to make a difference: Being able to uphold the constitution and use your knowledge for a greater cause is a compelling reason to pick law as a career if you're the kind of person that wants to make a difference in the world. Take Ruth Bader Ginsburg, for instance, who worked tirelessly for women's rights. She was the single most important feminist lawyer, celebrated as a pop culture icon for her formidable stand on feminism. She was nicknamed "The Notorious RBG" and her recent demise was mourned the world over. You too, have the opportunity to make a real difference, if you have the knowledge of the law in your arsenal.
7. Flexibility: Though it can be a high-pressure environment, depending on the field you choose, lawyers do not have fixed working hours. As an independent lawyer, you can choose your work hours, charges and pretty much work at your own pace for the most part, unlike other jobs.
8. International Prospects: Studying law in India doesn't close your options to international opportunities. The UK and the US have similar laws as India and it is possible to explore lucrative career options in these countries as well.
9. Transferability of skills to alternative career options: Every industry needs a lawyer. If you think a mainstream legal career is not the right fit for you, your knowledge of the law improves your employability in various industries. You can work in banking and finance, in an educational institute as a professor, as a mediator in conflict resolution, HR Management for big corporations, legal consulting, etc. Studying law, in combination with other non-law degrees like business or hospital administration, strengthens your resume and makes you a highly valuable hire for any corporation.
10. Empowerment through knowledge: The knowledge of the constitution and rights and responsibilities empowers you and puts you in a unique position to engage in stimulating conversation that an actually make a difference in people's lives. Your professional circle is supercharged with intellectuals, each with a unique cause. Studying law not only opens your eyes to social issues we struggle with, but also makes you more proactive conscious, thus making you a better human being.
The study of law requires courage, intellect and hard work. However, the rewards are multifold and worth every minute of the work you put into it. Interested in studying law?
Vishwakarma University, Pune offers B.B.A.-LL.B, a five-year integrated undergraduate degree programme in Law, approved by BCI, enabling the students to get requisite knowledge of business administration and fundamental laws, both substantive and procedural laws, enabling the students to be professional. The university also offers LL.B., a three-year undergraduate degree programme in law enabling the students to get requisite knowledge of basic laws, both substantive and procedural laws, to be skilled legal professionals.