Faculty of Commerce & Management's Department of Management had organized a study tour to IIM Bangalore, India 15 th of June 2022 to 18 th of June 2022.
DAY 1: IIM Bangalore Campus and session with Prof. Ganesh Prabhu - IIM Bangalore is one of the top three management institutes in India and is located in close proximity to some of the leading corporate houses in the country, ranging from information technology to consumer product companies, giving it the added advantage of integrating classroom knowledge with practical experience.
46 students from MBA First & Second Year alson with 3 Faculty Members were the part of the study Tour. Indeed the tour was a lifetime experience for each and every student present there. The tour included not only the IIM Bangalore campus visit but also the state of art robust library visit, where students spent some time enriching the latest books on Management.
The visit also included an hour session on Blue Ocean Strategy through IIM Bangalore Professor of Strategy: Prof.Ganesh Prabhu at the campus classroom which was an indepth learning for students who asked lots of questions to the professor and which was patiently answered.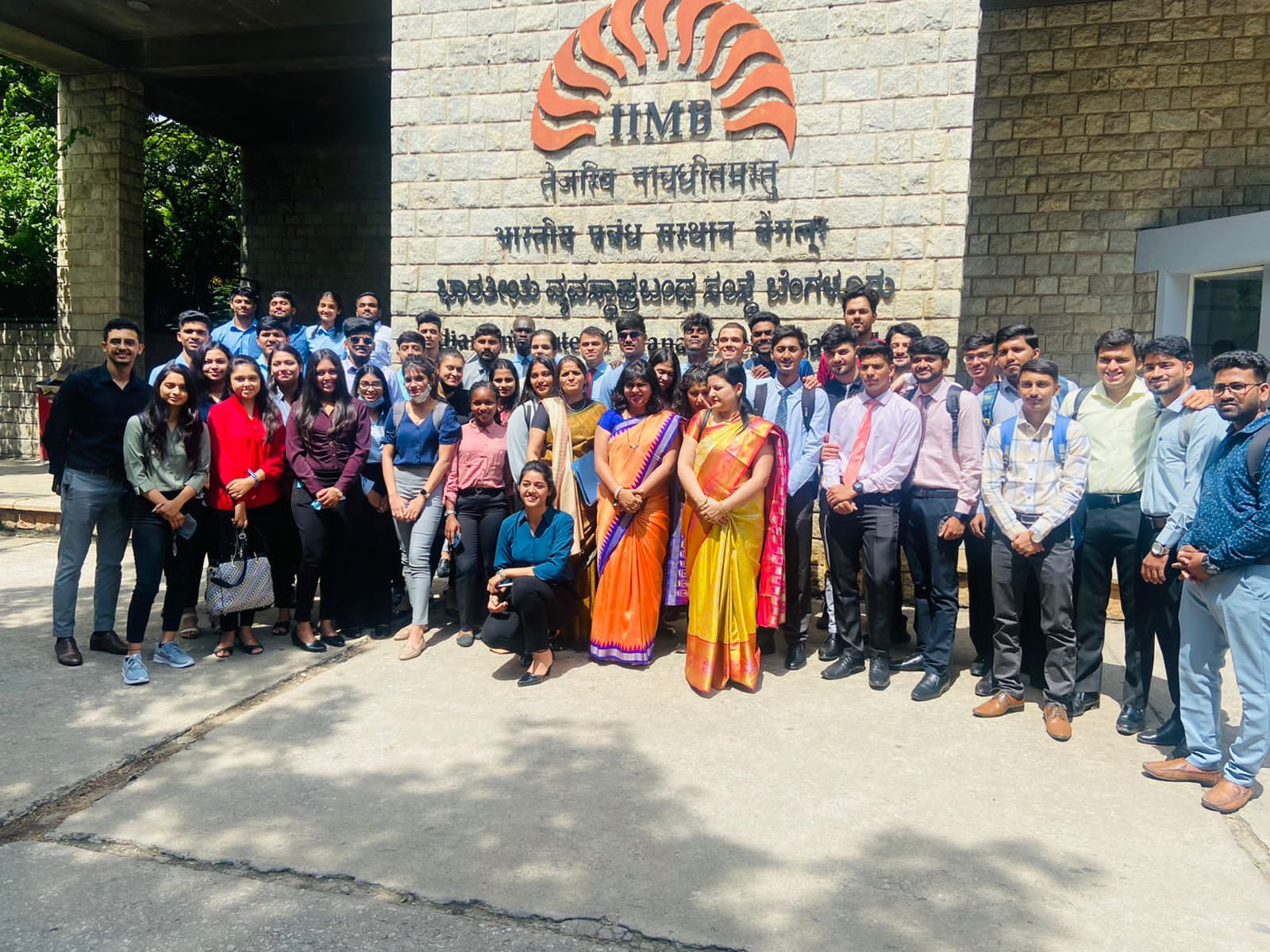 Day 2: On 17 th of June 2022 an educational trip to the Toyota Kirloskar Motor PVT LTD's Eco Zone was scheduled with 46 students and 3 Faculty members. Ecozone showcased the steps TMK are taking towards sustainability and protection of environment, activities like saving soil, plants, trees, fresh water, etc. Students had early morning walk in the oasis inside the ecozone in all the 17 theme parks. The dump yard of 25 acres turned into Ecozone with robust Flora and fauna. It was very interactive tour through the biologists Ms.Shreya Sri and Mr. Ajay educator/guide throughout the trip. They both explained the students regarding Toyota environmental challenge in 2015 and the sustainability and Eco zone concept of TMK which is unique of its kind. Students found the eco zone a very diverse hotspot for flora and fauna. By increasing the number and diversity of plants (fauna). It is directly linked to nature. And is progressing towards achieving their sustainable goals and students could relate with the same. They also showed us their 2 upcoming new sustainable car models in which one was EV.
UB City Mall where the tour was divided into 2 parts
1) Exploration of Oakwood Hotel.
2) Meeting Marketing Manager of UB City Mall.
Mr. Saurabh Kumar who is the General Manager of Oakwood gave us a wonderful opportunity to visit one of the hotels of Panchashil. We facilitated him with a bouquet and a small token of appreciation. The Chief Engineer – Mr. Prasad, showed us the facilities that the hotel is been using as it is a service (Business) apartment it is totally different from other hotels, there are 28 flats which was mentioned by him. Mr. Saurabh Kumar interacted with students on varied questions on facility management.
The Marketing Manager of UB City Mall Ms. Sana spoke about UB City Mall's marketing strategy how they are setting up the brands on each floor for eg 1 st floor is for Big Brand's such as Rolex etc, the 2 nd floor had Clothing brands and lastly the 3 rd floor was having the Food restaurants, Bars and an amphitheatre were they organized music shows 2 times a month.
They're main focus was setting up the Brands accordingly like what Brand will the customers see first and what will be brands which they will allow in the Mall, design of the shops their interior their position in the Mall all of these are planned by them. Some students asked questions on their marketing plan. It was great learning experience towards Luxury Brands and how UB City Mall is managing their Business Ethics, Brands and their Marketing.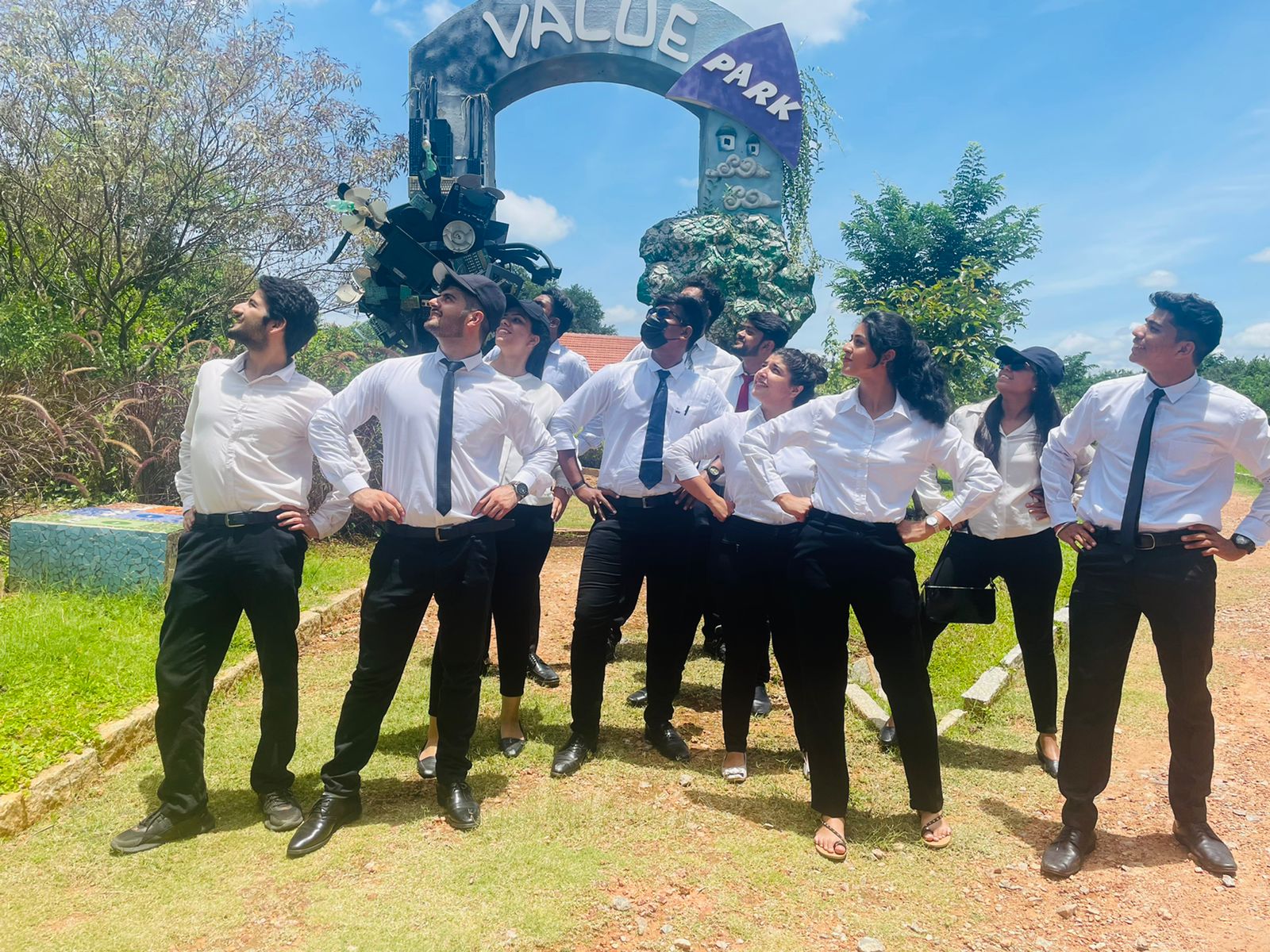 Day 3 Study Tour to ITC Ltd Banglore and students had a great experience watching how their different FMCG products were manufactured specially the chocolate filled biscuits. The process from procurement- kneading, baking, filling, packaging in different layers were shown and explained. The HR Manager Mr. Vivek and Manufacturing Manager Mr Anirban interacted pre and post visit to the factory and also discussed about HR and Quality aspects of the goods manufactured. It was a very informative and worthwhile experience for the students.