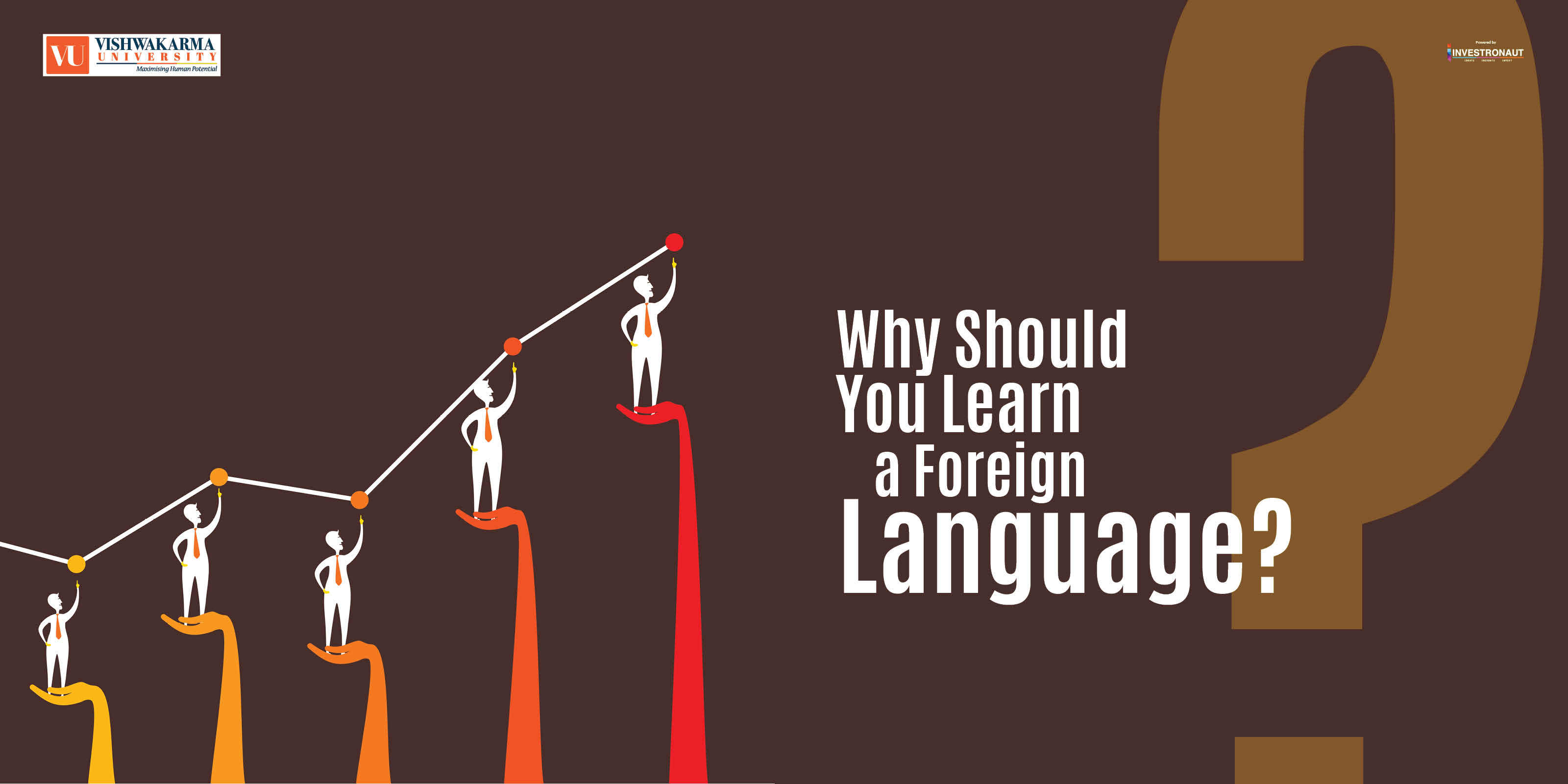 Learning a language is hard enough, learning a foreign language harder. A language is not simply an assortment of names and sounds, but an ever expanding catalogue of a culture. Learning a new language means experiencing a culture that is not only absent but also fundamentally different from the one in which one has grown. This cultural immersion is one of the most difficult things as the biases of own cultural conditioning continuously exert a pull that resists the foreign influences. The experience can be immensely frustrating. Yet, where there is a will there is a way as the old adage testifies. If you persist long enough, the process of learning a foreign language can be immensely enriching.

The benefits of learning a foreign language far outshine the clichéd and done to death adding sheen to your CV. How does it benefit thee, let me count the ways! For one, it is an excellent brain exercise and has documented health benefits. Learning a new language is fun and is proved to boost our cognitive process, helps in better memory and delays dementia and Alzheimer's. Learning a new language makes us a good listener as we have to pay attention to gauge the meaning in a new language. It allows us a sneak peek into a new culture. Learning new languages is not just a tool to explore the world outside, it takes us on an interesting journey inwards to understand the self. You emerge a more cosmopolitan and enriched person, an invaluable advantage in a globalized world.

The limits of your language are the limits of your world. Learning a language opens a whole new way of life to us because language acquisition cannot take place in isolation. Language and culture are deeply intertwined. Teaching-learning a foreign language is assisted by watching movies, learning songs, reading books etc. This exposure to new culture infuses cultural tolerance and brings an inevitable comparison to our native culture allowing us to self-reflect and understand our own position in the world. We might find an unexpected connect in another countries -music, food, dance etc that were hitherto alien to us.

You might claim that all this is fine but does it offer any tangible career benefits? Why should you as a student enroll for a language course? To put your brains where the money is, you can make a successful career out of it too, while having a great time.
Translator
In the age of instant google translator, the career as a translator is still a sought after one. It allows you the flexibility to work from any corner of the world as long as you have an internet connection. Since it is well paying and much in demand, it is highly competitive. One is advised to specialize in a niche domain such as education, law, medicine, science etc.

Interpreter
Interpreters are in demand in courtrooms, conferences, parliaments of multilingual countries, UN etc. Interpreters during live interviews and speeches are much in demand. Along with the message a good interpreter should also convey the personality of the person for whom you are interpreting so that the interpreters own personality stays in the background.

Flight Attendant
Foreign languages can open your path to one of the most glamorous professions and a ticket to travel the world. A combination of English and a foreign language like French, Spanish or German could be your ticket to an exciting career as a flight attendant.
Embassies and Consulates
Each country has an embassy and consulates that provides diplomatic services to other countries. These embassies and consulates need people who speak the local language.
These jobs are very prestigious and applicants with a very high proficiency are recruited after a rigorous selection process.
Proof reader/ Editor
Anything that is written/ translated needs to pass the watchful eyes of a proofreader before it is published. As a proof reader your role will be to find and correct any grammatical error in the document. A lot of international companies are setting up businesses in India. They hire people for translation and proof reading of their documents for formal communication.
Hospitality, Tourism and Travel Tour guide
With a degree in a foreign language, you can expect to work with museums and monuments as a multilingual tour guide. If you love to meet and chat with new people, this could be an option worth considering.
Trainer/ Teacher
Companies with businesses overseas train their staff in the local language before sending then abroad onsite. One can work as a corporate trainer for these companies and carry home a hefty pay check.
There are ample opportunities for qualified teachers in foreign languages. Most schools offer German, Russian, French or Russian, Japanese etc as a third language. Most universities too have foreign language departments.
Higher education in Europe
Germany, Finland and many other European countries do not charge tuition fees for higher education and countries like German and France offer generous scholarships for a Masters and Doctoral courses. A degree/diploma in foreign language opens research and higher studies opportunities abroad.
There is a world beyond engineering, medicine and management which is equally rewarding and perhaps more exciting. Don't be scared to explore it. There are no promises that it's going to be an easy ride. The rat race and competition is a part of every profession, one can't help it. But to be in a race one enjoys makes it worthwhile.
The author of this article, Richa Singh is a content writer with Investronaut. She is a voracious reader and a keen traveller.