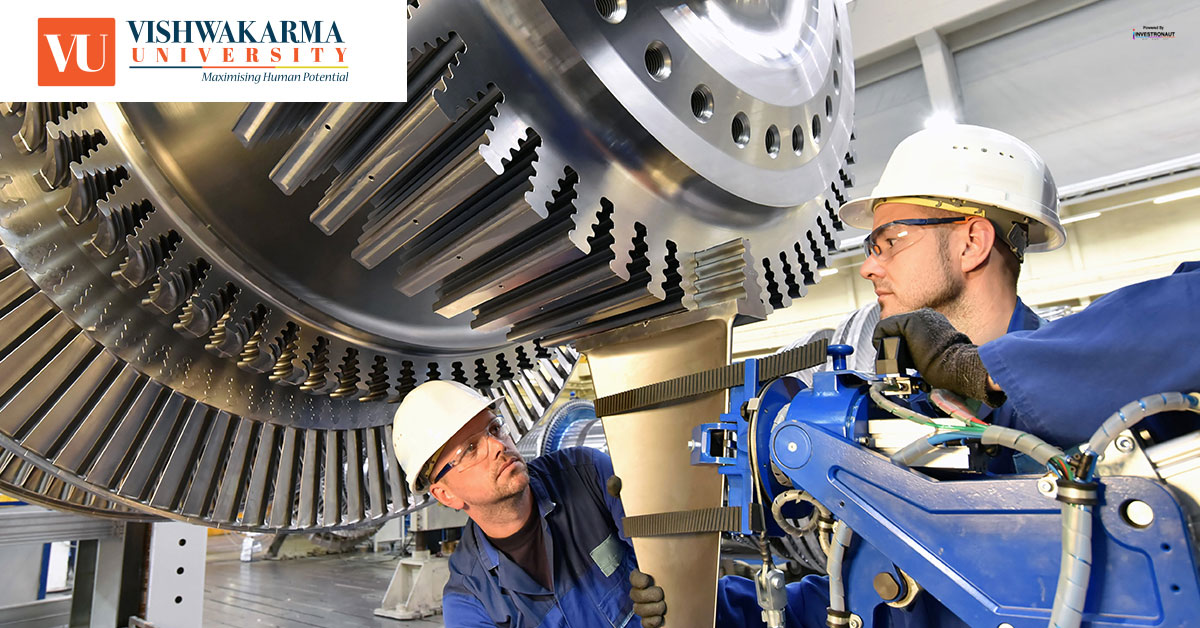 Are you keen to know how the big machines work and what goes inside their functioning? If yes, then B.Tech Mechanical Engineering is the most suitable course for you.
The field of Mechanical Engineering has seen an unprecedented rise in interest not only in terms of the vast avenues of exploration it offers but also when it comes to the lucrative career opportunities across a myriad of industries. Before diving into the specifics of a career in Mechanical Engineering, have a look at these frequently asked questions:
1. What is Mechanical Engineering?
Mechanical engineering is the branch of engineering that deals with the design, analysis, manufacturing, maintenance, and use of mechanical systems.
Mechanical engineering requires an understanding of core concepts including mechanics, kinematics, thermodynamics, material science, and structural analysis.
2. What do Mechanical engineers do?
Mechanical engineers deal with the design of a component, a machine, a system, a process - anything that needs to be manufactured; anything that moves!
The expertise of a mechanical engineer is needed in the tiniest micro-particle like sensors and switches to the largest systems like cars, spacecraft, and satellites.
3. What is the eligibility criteria for pursuing a Mechanical Engineering degree in India?
The basic eligibility criteria to pursue a mechanical engineering degree in India is - the student should have passed class 10+2 exam from a recognised board with a minimum percentile in the PCM (Mathematics, Physics, and Chemistry) as core subjects.
4. What are the different types of software used by Mechanical Engineers?
The different types of software used by mechanical engineers to design and check the performance of the equipment are-
Solid Modelling Software: UG NXCAD, AutoCad, SolidWorks, CATIA, ProE/ Creo, etc.
Simulation and Analysis: ANSYS, COMSOL, HyperMesh, etc.
Programming Language: C++, JAVA, PYTHON, etc.
MATLAB.
5. What are the key skills for Mechanical Engineers?
The key skills required for being a mechanical engineer are effective technical
skills, ability to work under pressure, problem-solving skills and teamwork.
6. What are the opportunities for students passing out with specialisation in Mechanical Engineering?
With the world being on a forefront of Revolution 4.0 and IoT enabled technologies, a specialisation in mechanical engineering is a boon. The engineers are going to have full visibility of operations which will allow them to be responsive towards minute details related to manufacturing processes. The industry is going to require skilled employees leading to an increased number of jobs for mechanical engineers.
7. What is the future of mechanical engineering in India?
Breakthroughs in materials and analytical tools have opened new frontiers for mechanical engineers. Nanotechnology, biotechnology, composites, computational fluid dynamics (CFD), and acoustical engineering have all expanded the mechanical engineering toolbox. With new technologies, the industry is heading towards massive job opportunities for mechanical engineers.
8. What is the average salary of mechanical engineers in India?
The average salary of mechanical engineers in India is based on the following factors, including engineering branch, company, experience and skills.
At present, based on qualification, the average salary of a mechanical engineers varies between:
B. Tech - 25-30K per month and ~50K after an experience of 4+ years
M.Tech - 50-60K per month and ~80K after an experience of 4+ years
9.What are the top companies for Mechanical Engineering freshers in India?
The list of top companies for mechanical engineering freshers in India includes the following renowned names: TATA Group, Thermax, Larsen & Toubro, the Godrej Group, Ashok Leyland, Kirloskar, General Motors, ThyssenKrupp, Mahindra & Mahindra, etc.
10. What are the job-oriented courses after mechanical engineering?
Take a look at the most popular advanced courses that have taken the mechanical industry by storm: MTech in Mechanical Engineering, Piping Design and Engineering Course, Master of Engineering in Tool Design, Robotics Course, Nanotechnology and Masters in Business Administration.
Before opting for any degree course, make sure you do a detailed research about the field of engineering that you are interested in. The college, its placements and overall knowledge that you gain after choosing your career option stays with you for the rest of your life, so you make the best choice and build a strong career.