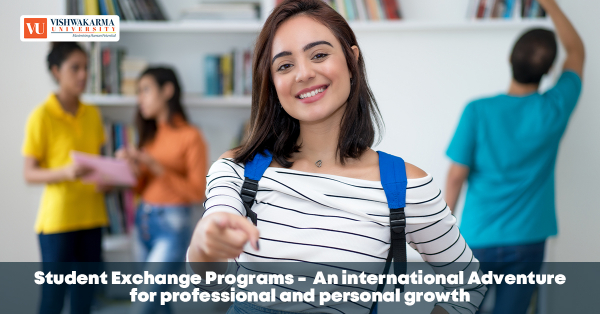 Has studying abroad been a dream of yours that you couldn't quite get around to? Don't lose heart, because a lot of prestigious Indian universities now offer the opportunity to study at world-class universities for a few semesters. These student-exchange programs are a terrific way of getting the best of both the Indian and global education systems, at a quarter of the cost.
Vishwakarma University, Pune, has collaborated with Nanyang Technological University, Singapore to promote such bilateral ties and to provide a global learning experience to its students from VU and Vishwakarma Institutions (Vishwakarma Institute of Technology (VIT), Vishwakarma Institute of Information Technology (VIIT) & Vishwakarma Schools (Wisdom Schools).
Here's how a student exchange program can amplify your education experience and help you personally and professionally
Exposure to different approaches to learning
Studying in foreign universities exposes you to different approaches to teaching, unique learning methodologies and alternative means of instruction. Right from the way professors interact with students to the way assessments are conducted, the whole study experience is distinctive. When you come back to your home country, you can share this knowledge with your peers and professors and help inculcate the best facets of international systems into your own way of learning.
Developing a global perspective
Living and studying in a different country makes you aware of the cultural, ideological and political happenings around you. It exposes you to students from different countries, each with a unique point of view. This gives you a global outlook and it makes you understand and empathise with different cultures and nationalities. You become more tolerant and understanding towards international practices. You will come back a changed person, with a truly global stance.
Enhancing employability
Employers look favourably upon candidates with international exposure. Your stint at a study-abroad program will equip you with the ability to solve global challenges at the workplace and it can help you understand international markets better than a student without any international exposure. Your familiarity with a foreign language, ability to comprehend different accents and understanding of international cultural and industry practices will also make you an extremely competitive choice for employment.
Network Building
A large part of undergraduate and postgraduate education is about building bonds that can help you personally and professionally. When you interact and mingle with students from different backgrounds, you strengthen your network which can help you when you're looking for employment or if you're looking to build a business of your own. After your return to your home country, you can continue to exchange ideas and knowledge, be it educational, professional or personal.
Personal Growth
A student exchange program helps develop your self-confidence and self esteem. Living independently in a foreign country, venturing into the unknown, far from your comfort zone changes you as a person. You mature as an individual when you face challenges in a day-to-day context. You also develop deep friendships and a sense of independence that is truly liberating.
We currently live in revolutionary times where it is actually possible to study abroad, while being enrolled in an Indian university. It is a life-changing experience that you can not miss out on.
Vishwakarma University, Pune, offers internships for undergraduate, postgraduate and PhD students, who also have the fantastic opportunity to embark on collaborative research work with NTU, under the expert guidance and supervision of both faculty.
Students may be selected for internship stints of up to 2 months, or a semester-long student exchange programme. Depending on their academic performance, students from Vishwakarma Group's institutions may also be admitted as full-time undergraduate and postgraduate students at NTU, Singapore. To know more about the eligibility and requirements of the program, visit our website https://www.vupune.ac.in.