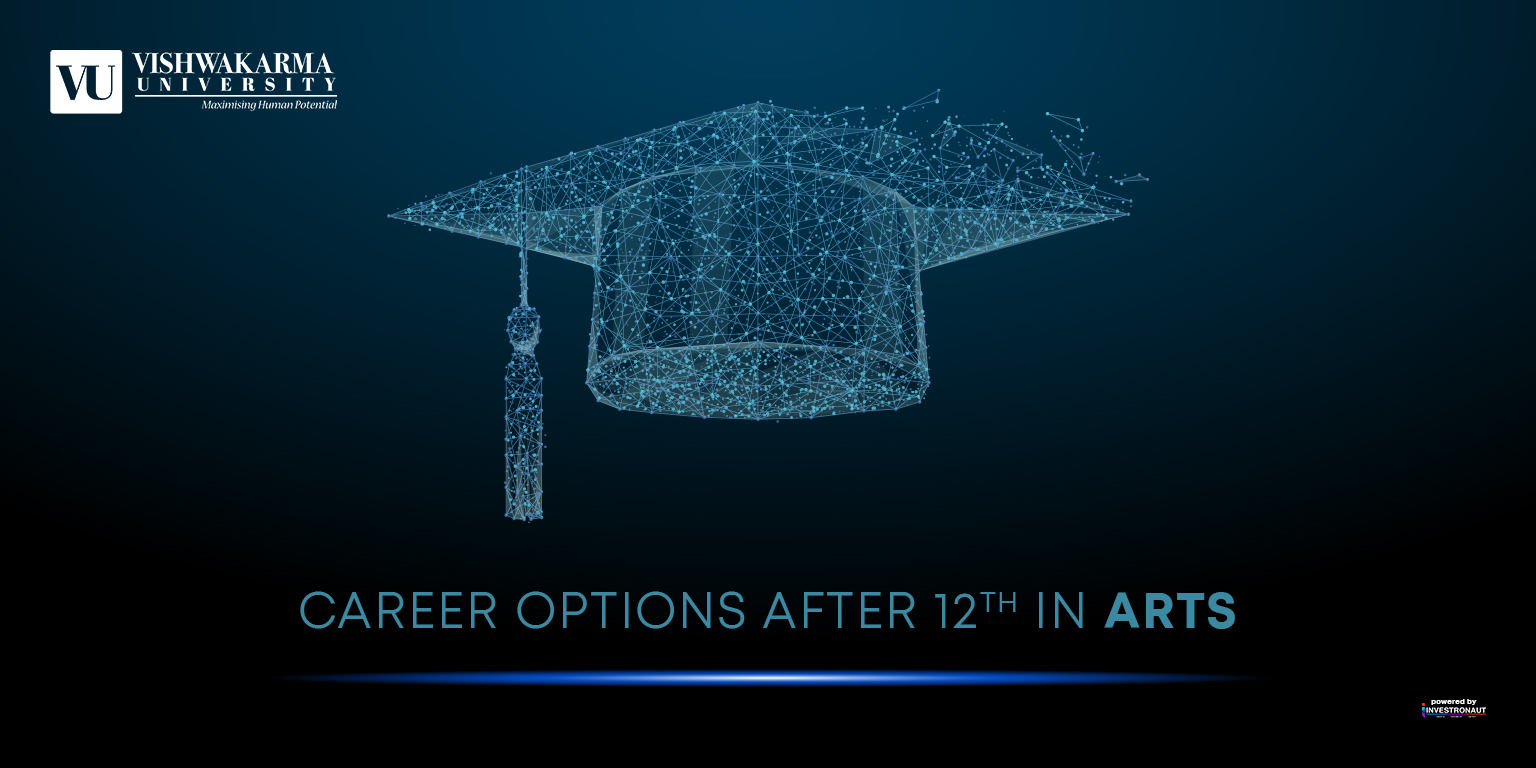 Are you an Arts student, confused about finding the right course in college? Worry not! We have curated a list of career options after 12th for you, that cash on your creative potential while promising to be financially rewarding!
Ask a child his or her aim in life, and I bet you that nine out of ten times, the aim would be to be a doctor or an engineer. It is not completely beyond understanding either – in a country where one lives forever on the edge, engineering and medicine seem a sure shot way of raking in the moolah. Who wants to be poor, after all? Humanities is often pooh-poohed, therefore, for precisely the same reason? Scope kya hai? The parents say wagging authoritative fingers at the child.
The answer is Scope hai! Gone are the days when Engineering and Medicine were considered to be the only dependable career options. Today, Arts, Humanities and Social Sciences graduates have a wide range of lucrative careers to choose from. A degree in Economics, Graphic Design, Psychology, Journalism, Fashion Design, Law, in Interior Design etc. can open a plethora of opportunities to art graduates. If you have finished your exams and wondering what to do after 12th, look no further. We have curated a list of career options after 12th in Arts that can be your gateway to a bright future.
1. Journalism and Mass communication
If there's one career that never goes out of demand, its journalism. In this era of instant communication, people constantly want to keep themselves abreast with the latest happenings around them. It will give you the satisfaction of having bylines to your credit, which you can flaunt and rub in the face of naysayers. Besides, a career in journalism gives you the opportunity to meet people from all walks of life. A degree in Journalism and Mass Communication makes you eligible to work as a reporter, photojournalist, and last but not the least a TV news presenter etc. Imagine all your family is huddled in the living room, and your face beams in from the television as you direct people to answer what the nation wants to know! Imagine!
Do you draw and doodle when the teacher drones on in the class? Worry not! A sharp eye and a sharp wit can take you places as a cartoonist. In days of yore, poor cartoonists had to do the bidding of the editor. No more, no more. Post your cartoon on your social media page, get thousands of likes, and earn without the hassle of a regular job. If you can hone your writing skills to write eye-catching captions and precise stories, web journalism too opens a host of opportunities for you. An 800 word piece for Reuters alone can fetch you about 90,000 rupees.
2. Psychology
Jaanay kyun, jaanay kyun? Aamir Khan croons in a Hindi song. Have you ever wondered, how human beings think? Why someone reacts to a situation the way they do? Why some people are outgoing while others are shy? If you have more questions than answers, study Psychology. India ranks among one the unhappiest countries of the world, if a recent survey were to believed. An unhappy person is a shrink's delight. Besides, with awareness rising about mental health in India, the demand for trained psychologist is set to rise. Corporates need psychologists to understand client behaviour, train employees in problem solving, or simply to market themselves better. As a corporate consultant, one can set up a globe-trotting career consulting with firms and businesses around the world. These are just two possibilities – you can train as a military psychologist, child psychologist, forensic psychologist, occupational psychologist…the list is a long drawn one, and you get the hint, don't you?
3. Economics
Money makes the world go round and always will! Manmohan Singh did not become a Prime Minister for nothing. Economics as a subject is growing in popularity these days because of its widespread applicability. You could teach it, you could work at a bank or financial institution, you could work in a corporate, you could provide advice and consultancy, or you could simply help people decide their investment options. The sky is the limit. Rural studies, statistics, GDP, banking, finance and development – all can be included under its ambit. You could be the next Raghuram Rajan!
4. Law
As long as the world adheres to the contract of civilization, law will be needed. And as long as law exists, a lawyer can never be out of work. There are many fishes in the legal pond, just drop a line and Eureka, you will make a career out of it. You can work as a corporate lawyer, a criminal layer, family lawyer, a civil lawyer etc. If you can combine your legal knowledge with good interpersonal and communication skills, you can have a good number of clientele to your credit. You could sit on the bar too with a legal degree, and adjudicate at the top seats of justice in the country and the world.
Don't you love the pretty clothes on show at the mall? That pair of jeans that caught your attention, that skirt that made you look at the mirror and sigh! You could be the lead force behind creating those clothes.
The fashion and apparel industry in India is currently estimated at approximately $ 70 billions and its set to grow exponentially. The fashion designing courses after 12th prepare you for the fast-paced, exciting and glamour industry. Graduates can find employment as a Brand Manager, Fashion Journalist, Costume Designer, Accessory Designer.
Appearances may be deceptive, but they are useful. They are the first thing that catch your eye. What should a particular product look like? How should I design my website or my brochure or my proposal that it catches the eye? In steps the graphic designer. A graphic designer should have an eye for color, understanding of shapes and a creative bent of mind. A degree in graphic design can teach you the basics but like any other field most of the learning takes places 'on the job'. To succeed as a designer, you need to keep your eyes open, be observant and learn to think on your feet.
7. Interior Design and Decoration
Often times people take interior design and interior decoration to be the same thing except that they are not. Interior designers are a combination of engineer and artists. They possess a thorough knowledge of material, budget, installation, electrical safety and construction etc. This broader range of required knowledge distinguishes them from interior decorators who mostly decorate the available space according to the taste of their client. Interior design and decoration is hard work but for those who are willing to learn to balance the practical and aesthetic aspects of it can go a long way. It is a financially rewarding and creatively satisfying career. Ask Twinkle Khanna, she left films for it.
The author of this article, Richa Singh is a content writer with Investronaut. She is a voracious reader and a keen traveller.