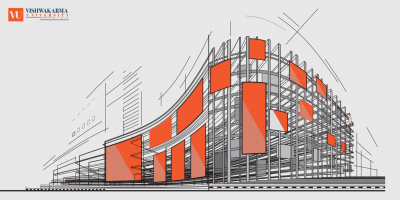 A career in Architecture goes beyond designing beautiful interiors and impressive exteriors of buildings. It is about creating spaces that make lives comfortable while being sensitive to the environment and adding value to the cultural legacy of a place.
With the expansion in the urban landscape, Architectures are much in demand to design apartments, hotels, shopping malls, hospitals, schools, corporate and industrial spaces. A career in Architecture promises to be financially rewarding, exciting, and creatively satisfying. Let's ponder over some of the compelling reasons to study Architecture and a list of careers in Architecture.
Reasons to Study Architecture
1. Be Creative and Analytical
Often students are forced to make a clear choice between Arts, Commerce, and Science streams after they finish school. An Architecture course after 12th allows you to blend all the streams and offers you an interdisciplinary perspective and a perfect amalgamation of creativity, technology, arts, and science.
Architecture as a field of study draws on science and arts equally. You need a vivid imagination and creativity to envision and design beautiful buildings while a sound technical knowledge to make them sustainable and durable. A degree in Architecture is a great way to keep both the right and left hemispheres of your brain stimulated.
2. For the Love of Travel
If travelling is your passion, you can effectively couple it with pursuing an architecture course after 12th standard. Travelling is an integral part of studying architecture to understand how people live in different cultures around the world. A degree in Architecture mandates observing and studying architectural techniques of different regions according to their climate, culture, and availability of material. A textbook or a picture can't do justice to the magnificence of palaces in Rajasthan, you need to travel to the state to study the elements of design, colour, texture, and technique that infuses magnificence into a building.
3. Make Your Ideas Immortal
The average human life cycle is between 60 to 80 years, while a well-designed and efficiently constructed building stands tall for thousands of years, bearing testimony to the skills and creativity of the architect. So, your creation becomes a part of the cultural heritage and history of a place.
For example, the famous pre-partition Punjab's renowned architect Bhai Ram Singh's work stands elegantly on both sides of the Indo- Pak border and bears testimony to his brilliant architectural skills. His major work involves the Lahore Museum, Amritsar Government College, Maypo School of Arts.
4. It's a Lucrative Career
Money matters and a career in Architecture pays well and provides immense scope for upward career mobility. With the expansion in urban landscapes, architects with viable and innovative solutions to the urban needs of housing, office, and industrial spaces are much in demand. Once you complete your degree with good grades, you are likely to find a good head start with a decent paycheque, to begin with. With experience and your motivation to learn, the sky is the limit in terms of remuneration.
5. List of Careers in Architecture
You can expect various jobs after B. Arch. both in the public and private sectors. You can be hired by a private firm as an architectural engineer, section engineer, interior designer, etc. You could also work with various architectural units of government like Town and Country Planning Organisation, Housing and Urban Development Corporation, National Building Organisation, National Building Construction Corporation, etc. If you have an entrepreneurial bent of mind, you can be your boss and you can start your consulting firm. You can opt for higher studies to further enhance your skillset and take up academics as a career. The list of careers in Architecture is endless.
6. Hands-on-Experience
As an Architect, you need to work on real-life problems, real case studies, and design functional, efficient, and elegant buildings that will serve the people that inhabit them. For that you need to get your hands dirty! As an Architect, you need to get involved in every aspect of design and execution, visit construction sites, build models, deal with vendors, interact with construction workers and engineers.